Kitsap County Brush Mowing / Brush Removal / Vacant Land Maintenance
Call Us For Your FREE Estimate At (360) 271-3017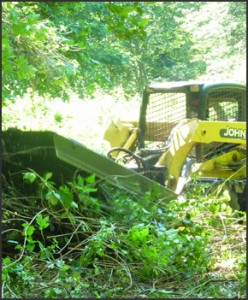 One of the greatest challenges in the Great Northwest can be maintaining vacant land and open fields. It can sometimes feel overwhelming (and a bit painful!) to keep land clear of scotch broom, blackberries, alder and other vegetation. If you have unwanted vegetation taking over your property we can help. We can make it all go away at a fraction of the cost of having someone clear and haul off the brush.
We use a heavy duty 72" rotary brush cutter that can mow down just about anything under 4" in diameter. As it mows, it breaks down and chops the material into small pieces. The mower is attached to a rubber tracked loader making it an ideal tool for sensitive areas such as drain fields, hillsides, and soft, wet ground. Our equipment gets the job done without tearing up the ground.
After the mowing is done, we always recommend planting grass to give competition to unwanted vegetation. Usually, after a few years of mowing and planting grass, the site becomes manageable so a property owner can go out on his own with a mower and weed eater to maintain the area.
One other benefit of mowing a site is that the chopped up debris that is left behind on the ground can assist in erosion control. However, if you would like all the debris from the mower taken off-site, we provide trucking for that as well. We provide a lot of services and mowing consistently gets the best reaction from people. They are truly amazed at how quickly we can transform a site and make it more enjoyable or desirable to buyers if you are looking to prepare your property for sale.
"Despite being a relatively smaller job, the crew did a fantastic job of clearing our property and took extra care in making sure everything was exactly how we wanted it. Cleaned up the area, added a few extras to the area. Highly recommend this company. Thanks, for a great job."
---
Douglas Billman
"My family is forever grateful to Logan for his amazing work on our property. He quickly transformed a huge area of blackberries into a space that we can restore and enjoy forever. He is extremely knowledgeable and professional and we would recommend his services to anyone."
---
The Young Family